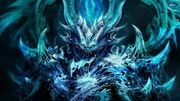 THE TELKHINES were mysterious sea god-smiths and sea titans native to the islands They invented the art of metal-working and were said to have crafted the sickle Kronos used to dethrone his father Ouranos and later a magical trident for Poseidon which the god used to lever mountains into the sea and form the islands. Their malignant use of magic was strong as Zeus, who cast them beneath to the sea
The Telkhines appear-eared at almost the identical time to the Hekatonkheires (Storm-Gods) and Elder Kyklopes (Lightning-Thunder metalworkers), they were smiths 1st however Damnameneus and Skelmis
History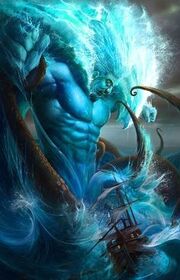 ---
---
---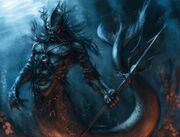 They invented the art of metal-working and were said to have crafted the many powerful early weapons of the immortals, They later made a Magical weapons for the titans and later Olympians,Their malignant use of magic, they produced a mixture of River Styx water and sulfur, which killed plants and animals, angered Zeus, who cast them beneath to the sea. Telekhines were described as being bigger then titans but smaller then the Elder Kyclopse also most powerful sons of Pontus.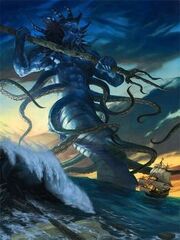 Being children of Thalassa and Pontus they were extremely powerful immortal children of the sea, together there might was strong enough to challenge any ruler of the seven seas and 2nd only under there prodecessors </gallery>

They made weapons for the Titans and I knows the seas better then any god who rules them,
Community content is available under
CC-BY-SA
unless otherwise noted.